Path of Destruction – Censored Video Review
By Gilleys22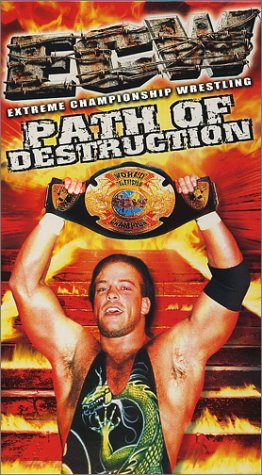 Match #1 – Chris Jericho vs. 2 Cold Scorpio vs. Pitbull # 2 vs. Shane Douglas
This 4-way dance starts off with Chris Jericho vs. 2 Cold Scorpio in the ring and Shane Douglas opening up Pitbull #2 with a chair. This is actually a really good match with lots of good spots. I didn't even realize it had been 27 minutes before the first person was eliminated. The match does sort of deteriorate when it gets down to Pitbull #2 and Shane Douglas. But when the Queen of Extreme Francine gets superbombed through the table, I was going nuts. It was awesome. After that though the match had a really weak finish. All-around I thought that this was a really good match.
Winner – Shane Douglas
Rating – 4 stars

Match #2 – Rob Van Dam vs. Bam Bam Bigelow
This was the match that started off RVD's 2 year long Television Title reign. After watching this match I realized that RVD deserved that reign and he is the "Whole F'n Show." This was a great match with amazing spots, like RVD doing two planchas into the third row of the crowd. During this match I even wanted to start chanting "RVD, RVD." This is easily the best match on the video. With Sabu doing the run-in at the end it sort of puts a little damper on the finish. But it does give it a fast paced, exciting Finnish.
Winner – Rob Van Dam
Rating – 5 stars (hehe 5 star frog splash, 5 star rating, what a coincidence)

Match #3 – Dean Malenko vs. Eddy Guererro
The farewell match between Malenko and Guererro. Grappling and technical wrestling at its finest. But I have a short attention span and I can't really take too much of technical wrestling. The match is a 2 out of 3 falls match and it goes for about half an hour. I know this was an amazing technical wrestling match but I just ended up being really, really bored. The match was too long.
Winner – Draw
Rating – 3 stars

Match #4 – Psicosis vs. Rey Misterio Jr.
This match was the debut of Extreme Lucha Libre to North America. It was also the debut of Psicosis and Rey Misterio Jr. to ECW. It was full of flips and huricanranas. It had some good spots and a lot of the moves would have probably been brand new to ECW and probably influenced a lot of people. The match had a pretty good finish and was an all-around good match.
Winner - Rey Misterio Jr.
Rating – 4 stars
My overall rating is that this would be a great video to buy and is definitely worth its money. So go out there and get this video.